How did you get into golf?
It is a question you hear on lots of podcasts, social media channels and video interviews in the golfing world and therefore I thought it about time that I told my story.
In this post I am going to talk about when I started playing golf, what got me into the game and where I hope golf will take me in the future.
Buckle in, this could be a long read…
We have to go way back to the spring of 1996 for the start of my golfing story.
It was April 11th, 1996 to be precise and the knowledgeable golfers amongst you will already realise that this is the annual date of the Masters tournament held at Augusta National.
Sport was always something that I watched of TV. I used to plead with my parents to stay up and watch programs such as Sports Night on the BBC midweek, Match of the Day on a Saturday night and pretty much any sports program I could.
However, until April 11th 1996 I had not really ever watched golf, never mind played the game. Yes, I could name famous golfers but I didn't really know an awful lot about the game.
The Masters – 1996
I think I picked a good golf tournament as my first one to watch on TV. All the golfers anoraks out there will know that this was the one where Sir Nick Faldo managed to come back from a 6 shot deficit from Greg Norman on the final round.
I won't go into the detail of the tournament here, but you can watch the Masters video below if you are interested!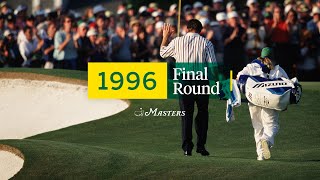 It had me hooked and I wanted to find our more about the game, and of course have a go at playing too.
Getting started
I had no idea about the game. what equipment was needed, where you could play, how much it cost. Not a clue.
I was chatting about my weekends viewing on the TV with friends at college only for one to mention that him and his dad played some weekends, early on a Saturday morning at the local municipal 9 hole course and they invited me to join them.
Super excited I started thinking about how to make this happen. I didn't have any clubs, equipment or clothing in order to get started.
I then found out that you could hire some clubs from the course and therefore I went along one morning to give it a go.
After playing 9 holes with my friend and his dad, at what seemed like about 06:30 (I was not a morning person back then!) I was hooked and wanted to play again and again.
We actually went quite a bit during that year, going each Saturday morning. I remember many times when my friend and his dad would come to my house early on a Saturday morning to collect me and I wasn't awake! I would hear the house phone ring and then half asleep thinking "Oh my god I am supposed to be playing golf now". Answering the phone I explained my over sleep and amazingly they would wait for me to get dressed and ready in about 5 minutes! Maybe if they hadn't have waited I would have never got into golf? Who knows.
We even went with college bus driver as we found out he went to the same golf club at weekends!
My first (half) set of clubs
After going a few times I remember annoying my mum and dad so much about getting me my own set of golf clubs. It was usually greeted with a no, but eventually I managed to get my dad to explore the possibility.
I found out that American Golf had second hand half sets for sale at our local store. We headed down there one Saturday afternoon (we always used to spend Saturdays with my dad as mum worked then) to take a look.
I came away with what was now the most ancient looking half set of golf clubs ever, but I was so excited.
I had a pitching wedge, 9, 7, 5 irons, a 5 wood and a putter. I remember the putter as it was basically like one you would get at the pitch and putt on Southport sea front! And the wood, well that was an actual wood. I remember it had 2 screws in the face and they kept coming lo0se and sticking out the front. Looking back, how I played with these makes me wonder! But I did and I enjoy playing with them – my very own set.
The deal also came with a bag and therefore I was ready to hit the course and play as well as Sir Nick did in the Masters (I hoped/thought!).
Highfield 9 hole course
The first few years I played at Highfield 9 hole course, which was a great starter course for anyone wanting to get into the game of golf.
It was a course with 3 par 4 holes and the rest par 3's. It is not too long either so good for getting used to the game.
Pretty soon after I started going, my dad decided he quite fancied a knock to and therefore he got himself some clubs, again a second hand, half set. To make up a full set his included sand wedge, 8, 6, 4 iron, 3 wood and of course a putter.
We used to go out most weekends to play a round and started to get a little better, but we were usually in the mid 50s for 9 holes, sometimes I managed to dip below but only very occasionally.
My first full set of clubs
For my 18th birthday I decided to get a proper full set of golf clubs and actually had a fitting for them. Now fittings back in those days were nothing like a fitting today as launch monitors and other sorts of tech were not really around.
However being well over 6ft tall, the fitting was good for getting shafts that were the correct length for me.
I went for a set which included:
Driver
3 wood
5 wood
Putter
3 to 9 iron
Pitching wedge
Sand wedge
These were the clubs that I was using up until last summer and I never really though anything about changing them.
I was pleasantly surprised how much change there has been, particularly with the woods.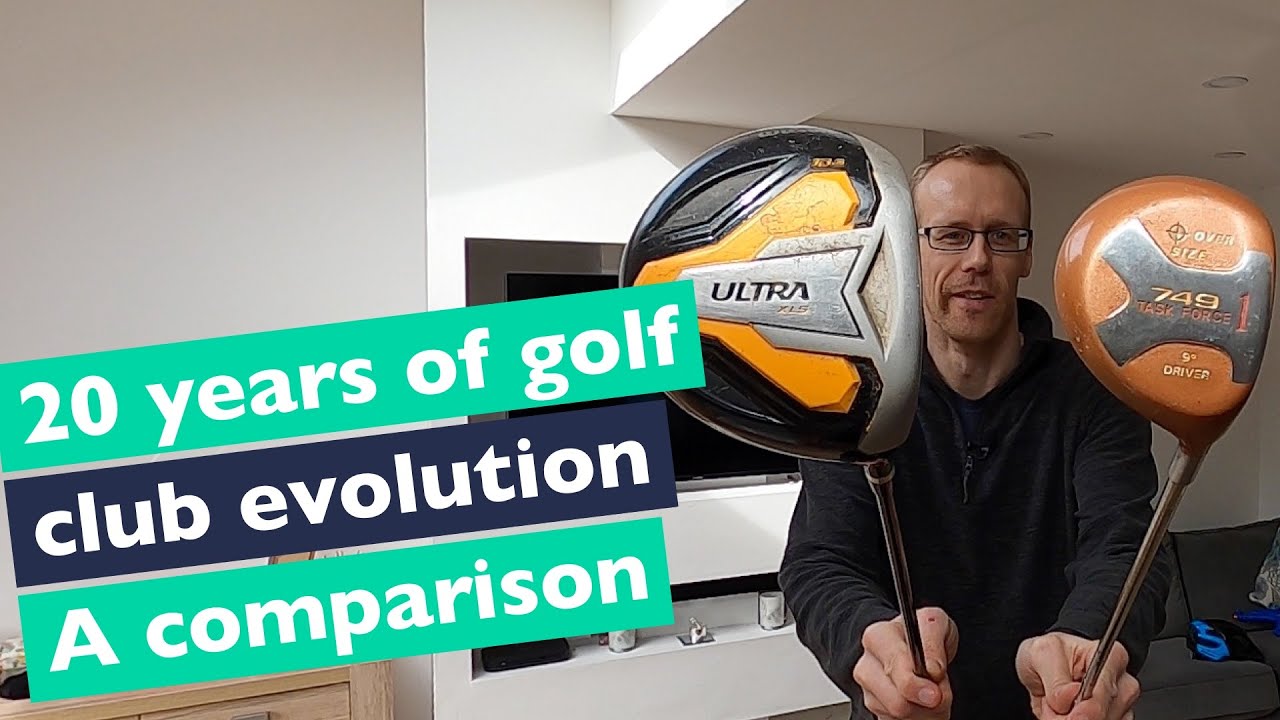 My first break from golf
It was around this time that I headed off to University and the golf took a break because of that. I did play a few rounds here and there.
I remember playing at a course near University when my dad popped up for the day but other than a few rounds here and there, golf took a back seat.
Joining my first golf course
A good few years later, I was now employed as a teacher and my dad (my playing partner as you may have guessed by now) was retired.
He and my uncle got the chance to join Stonyhurst Golf Club which was part of Stonyhurst college.
Back then, joining a club was a little more exclusive than it is now. You had to know someone who would recommend you etc.
Anyway to cut a long story short, my father and uncle joined as members and I then joined.
During the long summer holidays from work, I was getting up their most days, usually early in the morning and I remember getting rather good. My best score for 9 holes was 44 were par was 35.
Another break from golf
It was around this time that I met my wife and I then didn't really play golf for a good number of years as other things such as having a family got in the way.
Yes, I did have the odd round here and there, but nothing really on an ongoing basis.
Back to golf in 2019
In 2019, I can't remember why but I started watching a lot of golf on the Sky Sports Golf channel. I remember the Waste Management Phoenix Open, the Genesis and of course the majors later in the year.
This spurred me on to get back into golf and got me thinking about why I wasn't playing golf. My list of reasons not to play was tiny if not none existent and therefore I started going for rounds.
I quickly became hooked and got what I think people call "the golf bug".
I must add that during all of the golf to this point, I never really got any worse or any better. I was enjoying golf but making no progress – something which I always like to achieve. Playing with my old set I was getting between 90 – 95 for 18 holes and I was then getting the same scores in 2019.
My first golf lesson
Up to this point I had never had a golf lesson – not one, ever. I thought about my lack of progress in scoring and thought I would hunt around for a lesson.
My local course, Leyland Golf Club was the first place I went and they indicated that he Pro there did lessons.
It was June 2019 when I had the first of my 6 starter lessons with Colin Burgess. I absolutely loved them and the 6, 30 minute lessons I had really helped looking at the different aspects of the game including irons, driver, fairway woods, chipping, putting and bunker play.
The lessons really helped me focus on my game and concentrate on the basics.
Since then, my scores have started to come down more and more. I could not recommend a lesson enough to anyone.
Joining Pleasington Golf Club
Towards the end of the summer of 2019, I had made the decision that I should join a golf club as it would get me out there playing more often which only had benefits.
I actually played a number of golf clubs around my local area in order to get a feel for what was on offer.
I had already played Leyland Golf Club which is a great course and very local to me. However, it was a little damp even towards the end of the summer.
I also played at Wilpshire Golf Club which was another great course however the distance from that course to me was quite a way.
My neighbour was a member at Pleasington Golf Club and therefore I went down for a round.
I was really impressed with the quality of the course and it was an easy decision in the end to join.
Getting my first handicap
Once I had joined Pleasington, I then wanted to make sure that I got my very first handicap so that I could play in some of the winter competitions.
It was a matter of going around with 3 members to get them to sign a card. I managed to do this with 2 rounds of 18 holes and 2 rounds of 9 holes.
I was quite surprised to be honest that my handicap was so high and I thought that I would be given a handicap of about 15.
That brings us to the present, still trying to get better and aiming to get my handicap down to single figures before the start of the 2021 season.
If you want to follow more of my golfing journey then be sure to follow me on:
Also subscribe to my Youtube channel for more video insights about my journey.